Three Yeis & Cornstalk 30″x 40″ Skeins- 55
$501.00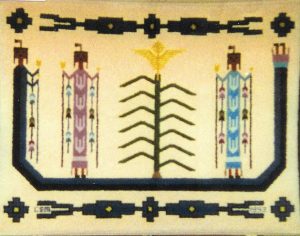 2 in stock
Description
Navajo Yeis are supernatural beings who communicate between the Navajos and their gods. These are not used in worship nor considered prayer rugs. The cornstalk signifies the growth of the earth. History has taught us that the Indians brought maize ( Indian corn) to the first Thanksgiving dinner shared by the pilgrims and the Indians.
A total of 55 skeins are included in this kit.  Finished size 30″ x 40″
Included in this kit:
Rug Backing
Color chart that indicates where the various wool colors are punched.
Photograph of finished rug.
55 Skeins of wool.

1 Turquoise skeins


4 Teal skeins


4 Spruce skeins


1 Seafoam skeins


1 Sand skeins


8 Plum skeins


4 Peacock skeins


25 Natural skeins


1 Light Purple skeins


1 Ivory skeins


1 Gold skeins


1 Dull Rose skeins


2 Dark Green skeins


1 Dark Brown skeins